The 2020 Subaru Love Promise Community Commitment Award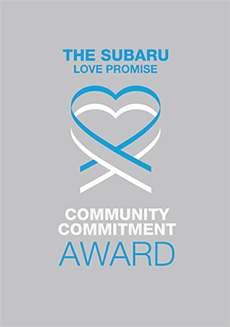 We've been nationally recognized for our dedication to our community and the Subaru Love Promise.
We're honored to receive the 2020 Subaru Love Promise Community Commitment Award. This award nationally recognizes Subaru retailers who are making the world a better place while demonstrating an outstanding commitment to supporting passions and causes in local communities. These efforts are focused in important areas such as the environment, community, health, education, and pets.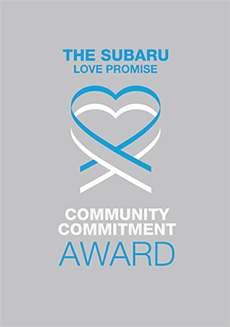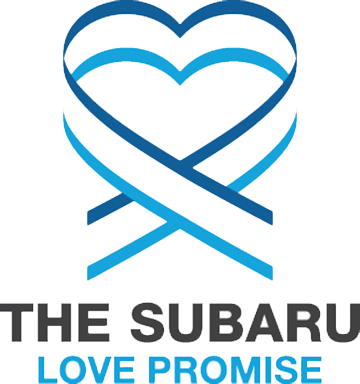 What is the Subaru Love Promise?
Subaru and our retailers believe in making the world a better place and the Subaru Love Promise is our vision of respecting all people. This is our commitment to show love and respect to our customers and to work to make a positive impact in the world.
How is Scoggin-Dickey Subaru dedicated locally to the Love Promise?
Our Love Promise can be seen in various partnerships with local charities and non-profits. We're grateful for the opportunity, not only to be a part of our community, but to serve it as well.
Love Promise Stories from Scoggin-Dickey Subaru
Subaru and Scoggin-Dickey Subaru believe in making a positive impact on the communities in which we live and work. We uphold that belief through our Love Promise Community Commitment. Every month, we select inspiring stories from customers and partners from around our area who strive to support our collective commitment and feature them here
Home For The Holidays Pet Adoption Events - Christine C
Scoggin-Dickey Subaru sponsors a Home For The Holidays pet adoption event and we have participated for three years. Matt Patterson and his employees are welcoming and helpful. They supply us with a great place for adoptions and the advertising helps bring awareness to our local shelters and to the wonderful animals we have for adoption. The event is well organized and we have adopted several animals from these events. We appreciate Subaru's dedication to animals!
---
Hannah's Wish - Candice H
"I wish to go to Disney World!"…Hannah, a Seven-year-old with a Genetic Disorder who loves cotton candy, the color pink and everything Disney Princesses. Hannah's family knew a trip to Disney World would fulfill many of Hannah's dreams. Hannah and her family enjoyed Magic Kingdom, Hollywood Studios, Universal Studios, Sea World and especially loved the Ariel and Frozen shows. Her favorite moments were the character meet and greets, like Cinderella, Elena, Snow White with Doc McStuffins, Jessie from Toy Story, Olaf and Mickey Mouse! She adored her princess makeover at the Bibbidi Boppidi Boutique! "We have never seen her that happy and are so blessed to have these wonderful memories!" shared Hannah's Mom, Denay. This trip reminded Hannah anything is possible and such wishes restores hope for kids battling critical illnesses. Visit WishesNeedYou.org today to make your donation. Thank You Scoggin Dickey Subaru for helping make a little girl's dream come true!
---
Blankets of Love - Erica H
Today we received a large donation of blankets from Scoggin Dickey Subaru, and it could not have been better timing. As the cooler weather is approaching, we were able to hand out blankets to our friends in homelessness many of which do not know where they are laying their head tonight. Due to the pandemic our donations have slowed leaving us without blankets and gloves to hand out, so this is a huge blessing! Thank you for all that you do for this community.
---
Winter Blankets for Children's Home of Lubbock - Denise A
Scoggin-Dickey Subaru is delivering blankets once again for their Subaru Loves to Care Program, and Children's Home of Lubbock is excited to receive them just in time for winter. The donated blankets will go to the fifty plus kids out at the Home. Children's Home of Lubbock cares for the abused and neglected children of the South Plains and provides a safe place for these boys and girls to heal from their trauma. The blankets from Scoggin-Dickey Subaru are perfect for the children at the Home as they settle in for winter. Thank you, Scoggin-Dickey Subaru, for our cozy blankets!
---
Scoggin Dickey Subaru provides over 41,700 meals to the SPFB - Meagan B
The Coronavirus Stay-at-Home orders created a huge shift in the economy and a large need for help. Since March, there has been a 70% increase in the need for meals on the South Plains. Serving over 1 million pounds of food across 20 counties in such a short time could not be done without the generous donors, partners, foundations, volunteers and staff. The South Plains Food Bank is Feeding a New Future now with the help of partnerships in the community like Scoggin Dickey Subaru who granted over 41,700 meals. Thank you!"
---
Lubbock-Cooper High School - Sarah H
Scoggin-Dickey Subaru chose Lubbock-Cooper High School as the 2019 recipient of the Subaru Loves Learning Book Donation. We received six boxes of STEM books to share with students and teachers at our campus. Thank you for the generous donation to our campus.
---
Scoggin Dickey Subaru Blanket Delivery 2019 - Renita S
The Leukemia and Lymphoma Society of North Texas had the amazing pleasure to partner together with Scoggin Dickey Subaru on July 17 for their Subaru Loves to Care Program. As one of 8 neighborhood retailers, Scoggin Dickey Subaru delivered 80 blankets to Joe Arrington Cancer center, while also conveying hope, warmth, and uplifting words of encouragement to those currently being treated and battling for their lives. Each blanket came along with a personal note of hope written by the customers and staff of Scoggin Dickey Subaru that the patients absolutely loved reading. The Leukemia and Lymphoma Society of North Texas is beyond appreciative for the kindness and commitment of Scoggin Dickey Subaru not only for our mission but also to those in our local community. Seeing the joy on patients' faces as the blankets were personally delivered was extremely rewarding and heartwarming. We are honored to collaborate with an organization that offers back to the absolute most meriting individuals and carries light to the darkness of a cancer diagnosis.
---
Scoggin-Dickey Subaru's Commitment to United Way - Amanda M
At Lubbock Area United Way, we are committed to addressing the root causes of poverty across the South Plain. For many years, Scoggin-Dickey Subaru has partnered with us in this endeavor through their Share the Love event. Scoggin-Dickey is truly committed to the South Plains and making an ongoing impact locally - where it counts. We cannot begin to thank the company and its customers for their support.
---
Subaru Home for the Holidays Pet adoptions - lori c
Matt Patterson on Behalf of the Subaru family and Fox news has made Home for the Holidays Pet adoption event a Hugh success for Lubbock area pets. This will be our fourth year attending the Home for the Holiday's Adoption event. The adoption event is well planned and Matt goes above and beyond to accommodate us every year. This event has brought the much-needed attention to the need to Adopt don't shop for a furry friend. All the advertising has helped bring awareness to our little rescue,4 Legged Friends of Lubbock. We are greatly appreciative for all the community support and Matt and the Subaru family are so generous to help our little rescue. Kind regards, Lori Crum & Sarah Field.
---
Scoggin-Dickey Subaru Donates Books to LCHS - Sarah H
Matt Patterson, on behalf of Scoggin-Dickey Subaru in Lubbock, donated Subaru award-winning non-fiction science books to the Lubbock-Cooper High School Library. The students and staff members will appreciate these great resources. We are grateful to have community partners who value and support our school libraries.
---
Subaru & LLS Bring Warmth to Cancer Patients - Alyssa W
On July 11, Scoggin-Dickey Subaru partnered with The Leukemia & Lymphoma Society (LLS) of North Texas to deliver warmth & hope to patients battling cancer. Scoggin-Dickey Subaru generously donated 80 blankets and a number of arts & craft kits to patients in treatment at the Joe Arrington Cancer Center. LLS is very thankful for the love and support our patients received from Scoggin-Dickey Subaru. Subaru supports the Leukemia & Lymphoma Society in their mission to cure leukemia, lymphoma, Hodgkin's disease, and myeloma, and to improve the quality of life of patients and their families. LLS and patients across the country thank Subaru for their generosity towards our community! Because of you, our patients feel supported through their treatment and in survivorship. Thank you, Scoggin-Dickey Subaru!
---
Subaru sponsors my classroom - Cheyenne M
Subaru sponsored my classroom and provided me with funding to purchase some much needed classroom supplies. Thanks to Subaru, my classroom now has an electric pencil sharpener and my students and I are able to spend much more time focused on instruction because my students can sharpen their pencils more quickly with the electric pencil sharpener than they could with the manual pencil sharpener. The student in the attached picture was so proud the be the first student to use our new electric pencil sharpener. Also, Subaru helped me to secure funding for a large desk calendar which I have been using to teach my high school, special education and vocational students how to keep track of important dates such as pay days and the due dates for sample bills which the students pay from a sample budget. I was also able to order some notebooks to help my students with their organizational skills and some equipment for my students to use during their adaptive physical education class. My classroom will receive these items soon and my students are very excited to begin using them.
---
Give People Hope - Erin B
In 1946, several members of the community decided to invest in the Lubbock area by forming the Lubbock Area United Way. To this day, the organization seeks to "Give People Hope" by preparing them for three main phases of life: to succeed by the age of six in early childhood development, to succeed in school and graduate from high school, and to succeed in life by having the right tools to work and live independently. Over the course of that 69 years, Scoggin-Dickey has been an active participant in the United Way's annual campaign and numerous volunteer opportunities, such as taking leadership roles in our Loaned Executive Division, Corporate Division, and Development Committee. Beginning in 2001 and every year thereafter, Scoggin-Dickey has pledged to be a meal sponsor to help underwrite the costs of hosting lunch meetings for the annual campaign. Lubbock Area United Way is ever grateful to have ongoing support from this outstanding community business partner. United Way considers Scoggin-Dickey a long-time, local collaborator and friend in fulfilling its mission. Thank you, Erin Baxter Office Manager Lubbock Area United Way
---