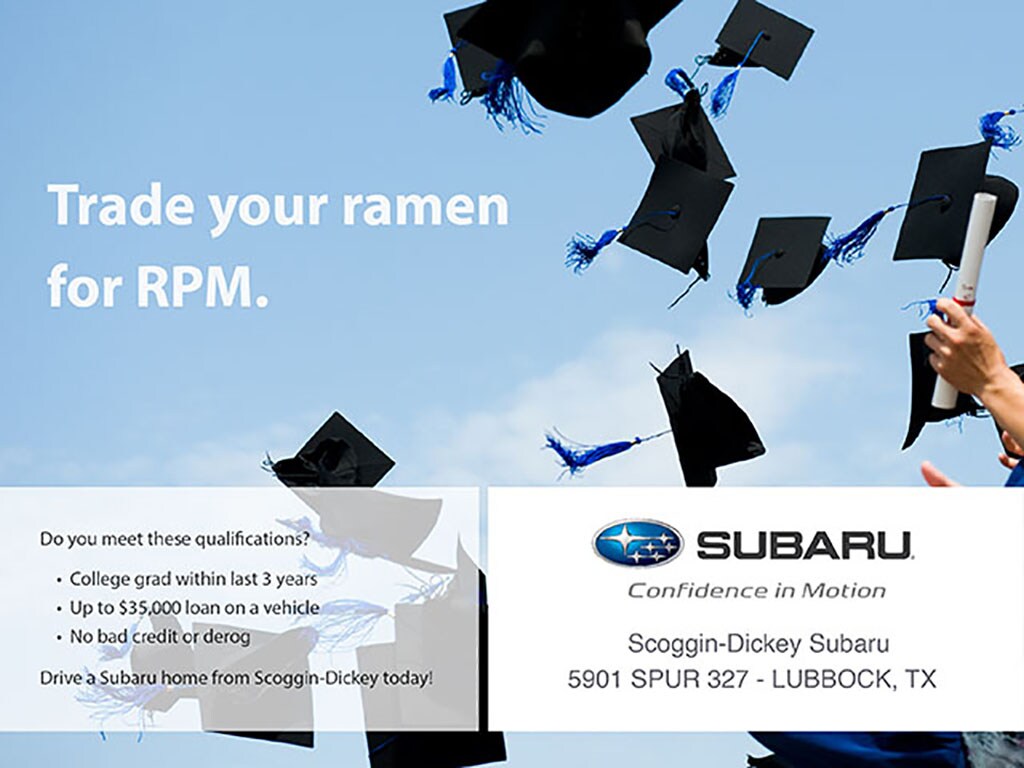 Scoggin Dickey Subaru is Proud to Offer the
Subaru College Graduate Financing Program

Subaru's College Graduate Program offers something better than a discount. It gives you the ability to establish credit in your own name when you might not otherwise qualify*.

 By investing in you, Subaru hopes to build a lifetime relationship; and it's a good bet they will. After all, Subaru owners love their cars. Subaru vehicles are the safest, most fuel efficient AWD cars on the road and chances are they will last longer than it will take you to pay off your college loans!
---
Vehicle Eligibility
All New and Used (up to three model years old) Subaru vehicles and all Certified Pre-Owned (CPO)Subaru vehicles, regardless of age, are eligible. All New Subaru vehicles are eligible for lease.
Customer Eligibility
• Applicant who will be graduating within six months or who has graduated up to 36 months from date of application with an associate bachelor's, or master's degree from an accredited 2- or 4-year U.S. college, graduate school (including doctorate) or nursing school. Applicant must provide proof of graduation: For the student who will be graduating within the next six months, either 1) a letter from the registrar's office stating graduation date and type of degree or 2) copy of transcript that states current classes, credits earned, and credits needed for degree.
• For the applicant who has graduated within 36 months from date of application: a copy of the diploma confirming graduation date or copy of final transcript that states type of degree and date earned. No derogatory credit history, past or present.
• For joint applications, both applicants must meet all program eligibility requirements.
• Program eligibility is subject to Subaru Motors Finance's (SMF's) review of all documentation and verification before funding; additional documentation may be required.
Employment/Income
• Applicant must have proof of employment and income. If employment has not yet started, a letter from the future employer that shows a start date within 90 days of the graduation date and salary is required, along with verbal verification from current or future employer.
Product Parameters
• Retail: All New, Used (up to three model years old) Subaru vehicles and all CPO Subaru vehicles are eligible.
• Maximum term is 72 months and the maximum booked LTV with aftermarket is 125%.
• Lease: All New Subaru vehicles. Maximum advance is 100% of MSRP up to 48 months.
• Maximum Amount Financed or Maximum Capitalized Cost is $35,000.
• The maximum approved Payment-To-Income (PTI) is 15%.
Hours
Monday

8:00am - 6:00pm

Tuesday

8:00am - 6:00pm

Wednesday

8:00am - 6:00pm

Thursday

8:00am - 6:00pm

Friday

8:00am - 6:00pm

Saturday

8:00am - 6:00pm

Sunday

Closed
Make an Inquiry
* Indicates a required field